Ciabatta Bread
2013-12-30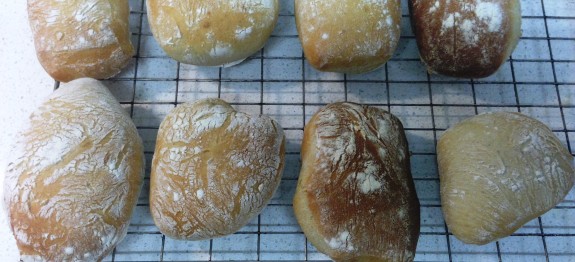 Yield :

10 Rolls

Servings :

10

Cook Time :

15m

Ready In :

60m
Hmmm…never really gone for the baking side of things, however this is a pretty good cheat. Worked for me anyway and it's the nearest thing to complete making of your own…This is great with my Tomato Bruschetta
Ingredients
1 x 500g Bag of Ciabatta Flour
1 x Tbsp Olive Oil
About 200ml Water
Method
Step 1
Basically follow the step by step instructions of the side of the packet...
Step 2
(From memory they go something like this): Pour flour and water into a mixing bowl and mix for 5 minutes with an electric mixer. Then add olive oil and mix for another minute.
Step 3
Turn out onto a floured surface and shape to a 12"x6" rectangle and allow to rest for about 10 minutes
Step 4
Now divide into 10 equal rolls by cutting in half down the length and then cutting each piece in to 5...Place on to a floured baking tray, cover with cling and place in a warm area to rise for approx. 30mins. The dough should double in size...
Step 5