The Ultimate Panackelty
2017-06-07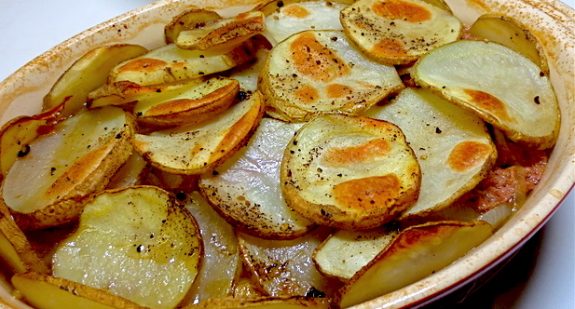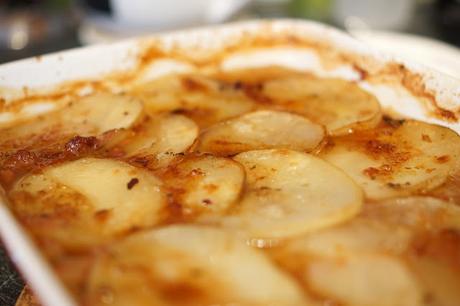 Servings :

4-6

Prep Time :

10m

Cook Time :

60m

Ready In :

1:10 h
Have to admit my eldest daughter Grace brought this dish to my attention when she cooked it for lunch one day at my business Brookhouse Gas Engineer Training centre…Immediately it ticked the two main criteria for getting on here as a recipe. 1) It has to be a 'taste sensation' & 2) It must be super easy to make. This dish has both qualities in abundance:
Panackelty (also spelt panacalty, panaculty, panackerty '"panaggie'" or abbreviated as panack) is a casseroled dish, traditional throughout the north east of England and especially associated with Sunderland, Tyne & Wear and County Durham consisting of meat (mainly corned beef) and root vegetables (mainly potatoes, onions and carrots) left to bake throughout the day in an oven pot on low heat or cooked slowly on a low heat in a pan, hence the name PANacalty. The dish exists in a number of local variations that differ in name, meat and vegetable content.
Around the Humber estuary a version is known as pan aggie and consists of layers of bacon, corned beef and onions topped with either sliced or mashed potatoes.
The Northumberland version, pan haggerty, comprises potatoes, onions and cheese baked in a baking dish, while panackelty, in the Sunderland region, comprises leftover meat cooked slowly with leftover root vegetables made in a slow cooker or served in casserole dish left in the oven to simmer and if short of ingredients from night before would usually add more fresh root vegetables a tin of corned beef and sliced potatoes added on top. The dish is also sometimes cooked in a frying pan, or made in a large pan and served as a soup, which allows it to be left on the hob and later reheated.
So…I decided to bring them all together in to one epic Ultimate Panackelty Game Changer
Ingredients
1 x Tin Corned Beef - Thinly Sliced
1 x Large Onion - Thinly Sliced
2 x Carrots - Thinly Sliced
4 Large Potatoes - Peeled & Thinly Sliced
125g Bacon - Cut into squares
125g Cheddar Cheese
¾ Pint Beef Stock
Method
Step 1
In a large over-proof casserole dish heat a little oil and gently fry the bacon & onion for 3-4 minutes, then remove and set aside.
Step 2
Now using the same pan, arrange a layer of the sliced potatoes in the bottom of the pan. Cover the potatoes with a layer of sliced onions, corned beef, then a layer of sliced carrots. Layer over some of the crisp bacon, then season with salt and freshly ground black pepper.
Step 3
Repeat the layering process finishing with a layer of potatoes on top, pour in the stock and cover with foil and place into a pre-heated oven at 190°C for 45 minutes.
Step 4
After 45 minutes remove the lid and place back in over for 10 minutes to brown the potatoes. After the 10 minutes sprinkle the cheese over the crispy potatoes and return to the oven for another 5-10 minutes until golden and bubbling.
Step 5
Serve with veggies of your choice or just whack a load in bowl and tuck in.
Average Member Rating
(4.1 / 5)
47 people rated this recipe
Recipe Comments