Simple Super Seafood Linguine
2014-04-02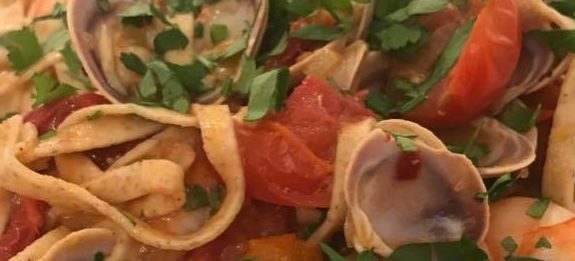 Servings :

4

Prep Time :

5m

Cook Time :

15m

Ready In :

20m
A dish that is equally spectacular looking as it tastes and in its simplicity to make. 20 minutes and you're done! I've just tried it with a healthier option of spelt fettuccine and it worked perfectly.
A basic rules of thumb is: 100g of pasta and 1 litre of boiling water per person
For tips on how to cook pasta perfectly read this.
Ingredients
440g Fresh Linguine Pasta - Or you can use Fresh Spelt Linguine, Fettuccine, Spaghetti
400g Fresh Peeled King Prawns
2 Handfuls of Fresh Mussels & Clams- Cleaned and De-Bearded (discard any that do not close when you put them in water.
200g Mixed Sweet Cherry Tomatoes - Halved
1 x tbsp Tomato Puree (Preferably Sun-dried) Or 2 x tbsp from my tomato sauce recipe...
2 Cloves Fresh Garlic Thinly Sliced
1 x Shallot Finely Chopped
1 x tsp Dried Chilli Flakes (optional)
1 Lemon - Juice & Zest
1 x Glass of White Wine - 100ml
1 x Small Glass of water - 50ml
4 x tbsp Fresh Chopped Flat Leaf Parsley
3 x tbsp Olive Oil
Freshly Ground Salt & Black Pepper
Method
Step 1
As usual PREPARE all of your ingredients first. Timing is what will make or break this dish.
Step 2
So, bring a large pan of salted water to the boil, no need for any oil! - (ready for your pasta).
Step 3
Now heat the olive oil in a heavy based frying pan and then add the garlic and shallot. Gently fry until they start to colour (about a minute or so) then add the prawns, tomatoes & chilli flakes - sauté for another minute.
Step 4
Check how long the pasta takes - you could add it to the boiling water now if you want...Cook the pasta as per the instructions. Typically 7-8 minutes for packet stuff and 2-4 minutes for the fresh stuff...But just check the timings. N.B. Stir your pasta every two minutes with a wooden spoon.
Step 5
Next add the clams, mussels and fry for about a minute. Now add the wine, water and tomato puree. Stir, cover and simmer for about 3-4 minutes. Taste and check for seasoning! Discard any shells that don't open! WARNING: Do Not Over Cook Your Sauce - You are looking for a fairly loose/watery consistency
Step 6
Strain your pasta (reserve a little of the cooking water in case you need to 'loosen' the pasta)
Step 7
Add the pasta to your pan with all the ingredients and gently toss with the lemon juice, zest and parsley. Make sure to coat all of the pasta in your sauce. (N.B. save a little of the parsley for the garnish) If you feel the sauce needs loosening then you can add a little of the reserved cooking water.
Step 8
Drizzle a little extra virgin olive oil, garnish each serving with the remaining parley and serve immediately in a warmed pasta bowl.
.