Penne all'Arrabbiata – (Pasta tubes in Tomato Sauce to you & me)
2017-01-17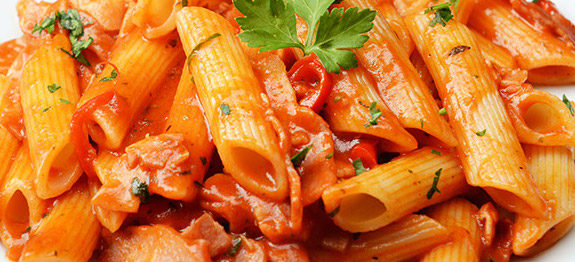 Servings :

2

Prep Time :

10m

Cook Time :

10m

Ready In :

25m
Arrabbiata sauce, or sugo all'arrabbiata in Italian, is a spicy sauce for pasta made from garlic, tomatoes, and red chili peppers cooked in olive oil. Harriet, you can leave out the chilli if you prefer ;o)
One of those jars of sauce will work here but if you want to make your own tomato sauce, try this recipe.
Meat eaters fry off some Italian sausage, pancetta lardons or chorizo with the onions to add a bit of body.
TIP: Garnish with Parmesan Crisps!
Ingredients
200g Fresh Penne
400g San Mazarno Tomatoes
1 tsp red chilli Flakes
2 x Cloves garlic - Chopped Finely
1 x Red Chilli - Chopped Finely
2 x tbsp Flat Leaf Parsley with some of the stalks - Chopped Finely
1 x tbsp Fresh Basil & Flat Leaf Parsley to Garnish - Chopped Finely
Salt & Black Pepper
Extra Vigin Olive Oil
Method
Step 1
Put the garlic & chilli with a little olive oil in a frying pan and cook over a medium heat for about 5 minutes until soft.
Step 2
Now pour in the tomatoes, simmer down to a consistency of your liking - keeping warm ready for serving. Season with salt & pepper to taste.
Step 3
Cook the penne in a pan of boiling salted water until just "al dente". Then strain off and reserve a little of the cooking water in case you need to thin your sauce.
Step 4
Add the pasta & 2 tbsp of parsley to the tomato sauce and cook for 1 more minute. Finish with a drizzle of extra virgin olive oil and garnish with remaining parsley and basil...Buon Appetito!