James' Easy Paella
2013-12-02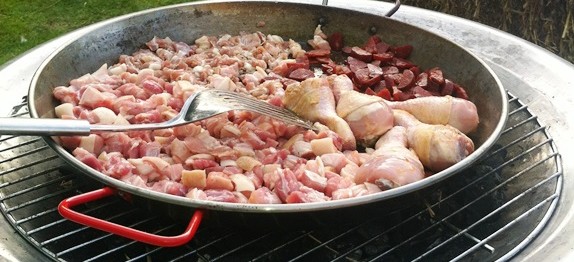 Yield :

A big pan full of joy

Servings :

6

Prep Time :

30m

Cook Time :

45m

Ready In :

1:30 h
I just love cooking a Paella, especially at parties & Barbecues – It just looks so impressive but to be truthful anybody can make this one… The secret is, to stick to the ingredients and as always make sure you use great ingredients. This little number can be cooked on a stove/hob top but also can be cooked on one of the those garden fire pit type things.
Ingredients
500g Paella Rice
6 Chicken Drum Sticks or Thighs
400g Belly Pork cut into 1" cubes
10 King Prawns
10 Clams in shells
10 Mussels in shells
150g Chorizo
80g or about 4 Slices of Pancetta - Chopped in to cubes
1½ Large Onions - Finely Chopped
80g Fine Beans - Chopped to 2" sticks
6 Cloves of Fresh Garlic - Crushed
2L Hot Chicken Stock
3 Large Pinches of Saffron
2tsp Smoked Paprika
Plain Flour
Salt & Pepper
A Bunch of Flat Leaf Parsley - Chopped
A Large Handful of Fresh or Frozen Peas
Spanish Olive Oil
Method
Step 1
Preheat the oven to 200° Season the chicken with the salt & pepper and then "dust" in the flour. Heat some olive oil in the pan and fry the chicken until nicely golden brown, then place them on a baking tray and into the oven for about 30 minutes.
Step 2
Make up two seperate 1 litre jugs of chicken stock. Put all of the saffron into one of the jugs and leave to infuse - This is an important part of the process!
Step 3
Add the sliced chorizo, pancetta & belly pork into the pan and fry until brown and crispy. Throw in the onion and garlic and cook until soft. Now add the rice and paprika and fry for a further minute to coat the rice. Then add the saffron infused stock and cook over a medium heat, stirring from time to time. (Top up with stock from the second jug if required)
Step 4
In about 20 minutes the rice should be almost cooked. At this point add the remaining stock, peas, fine beans and stir in. (check for seasoning) Then place the seafood on the top of the rice in an alternating pattern so it looks nice, cover with a lid and simmer for another 10 minutes
Step 5
Finally add the cooked chicken, sprinkle generouslt with your chopped parsley and serve with lemon wedges
Make sure some drunk wanna be chef doesn't throw in a large clump of mint instead of parsley right at the end…eh Jonny!
Average Member Rating
(5 / 5)
13 people rated this recipe
Recipe Comments