Malaysian Chicken & Mushroom Curry
2014-01-20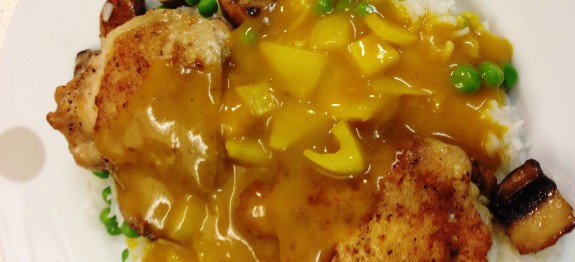 Servings :

As many as you like

Prep Time :

5m

Cook Time :

30m

Ready In :

35m
Of course you can make this dish a little more complex by making your own curry paste but the whole premise of this site is to provide GREAT tasting food that's EASY for anyone to recreate. To be honest I think you're wasting your time with your own paste, given the results of dish are spectacular, especially given its simplicity. You can add exchange or leave out ingredients to suit your own personal tastes. For example you could make a beef, pork, king prawn or even just a vegatable curry…or try a "Special" with a bit of everything!
My pictures show chicken thighs (not because they're cheaper – I just prefer the flavour) They take a little extra cooking than breast but I think they're worth the effort, especially when you crisp the skin! Also cooking all in one pan puts lots of flavour into the mushrooms.
If you're going to go with King Prawns, then I'd suggest making up the curry sauce first and then just quickly pan or wok fry your prawns at the last minute – sounds obvious I know but worth the shout for the kids…
Ingredients
As many chicken thighs per person as you need...or chicken breasts cut into ½" - ¾" cubes
As many mushrooms as you like (I like good old buttom mushrooms in mine) - Cut into similar size as your chicken
Some chopped onion - Again cut into similar sizes as your chicken
A handful of garden peas or as many as you fancy per person - I use Birdseye frozen
Maysan Malaysian Curry Paste
Optional Chopped Red Chilli
Optional Chopped Corriander
Method
Step 1
First thing you need to do is get a large frying pan on a high heat...then bang some vegetable oil in (Only a little is required, we're not deep frying the meat). Now season the chicken with some salt & black pepper then place them in your pan and brown both sides for 5 minutes each
Step 2
After 10 minutes of frying take the chicken out and set aside for a minute. In the same pan quickly fry off your mushrooms for 3-4 minutes, then place the chicken back in the pan and continue to cook for another 20 minutes or until the chicken is cooked through to the bone. You can turn the thighs from time to time to keep the colour and the skin crisp.
Step 3
While the chicken is cooking place a required amount of curry paste (see instructions on packet) into a pan of cold water - again the amount depends on how much you're cooking. Bring to boil and whisk to mix all the paste in - Once boiling reduce heat to a simmer (this can be done in advance in you prefer) If your curry is to thin (runny) simply grate more paste in until you get the desired consistency. TIP I've found that grating the paste in to the pan helps...
Step 4
5 minutes before you're ready to serve put the raw onion and frozen peas in to the curry sauce mix.
Step 5
Serve on a bed of fluffy boiled rice - place your cooked chicken thighs on top of your rice and simply ladle over your sauce. Garnish with chopped chillis if you like...and some copped corriander