Gambas Pil Pil – (Prawns cooked in Chilli, Garlic & Oil to you n me)
2015-09-30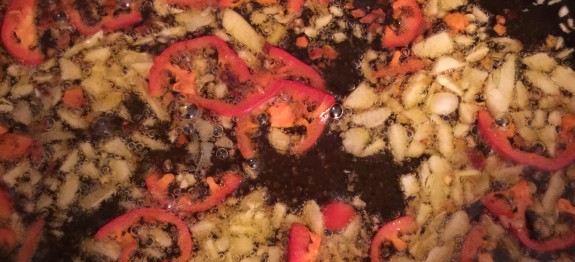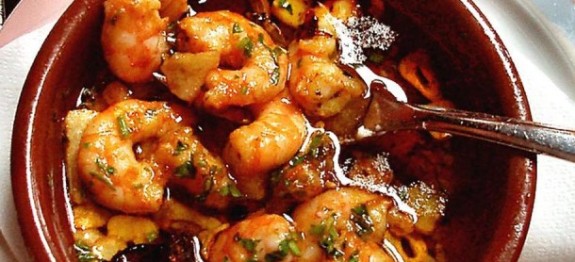 Servings :

4

Prep Time :

10m

Cook Time :

10m

Ready In :

20m
This is a classic Spanish Tapas dish and one of the easiest things you'll ever cook – A Guaranteed winner!
Pil Pil (pronounced Peel Peel) traditionally means a dish/sauce cooked in oil & chilli.
Ingredients
400g Fresh Raw Tiger Prawns - De-veined but leave the tail on
4-6 x Large Fresh Cloves of Garlic - Sliced NOT Crushed!
1 x Red Finger Chilli - Chopped into rings
9 x tbsp Spanish (if you have it) Extra Virgin Olive Oil
2 x tbsp Fresh Roughly Chopped Flat Leaf Parsley
2 x Pinches of Paprika
1 x Lemon
½ x tsp Dried Chilli Flakes - These add a "smokey depth" of flavour...
1 x Knob of Butter
1 x 100ml Dry Sherry
Method
Step 1
Place the: Oil, Garlic, Chilli, ½ of the Paprika, all of the Dried Chilli Flakes in to a large frying pan over a medium heat - gently fry for about 3 minutes - do not brown the garlic!
Step 2
Add in the sherry - stir for a minute or so then and the prawns and continue to fry for about 3-4 minutes - Shaking & string...
Step 3
Now add the butter - when melted add the juice of ½ a lemon and ½ of the parsley - Take of the heat and stir all in together.
Step 4
Finally, our all of the contents (including the oil) in to a warm serving bowl - Sprinkle with the remaining parsley, paprika. Serve with lemon wedges and warm crusty bread to soak up the juices.
Average Member Rating
(5 / 5)
5 people rated this recipe
Recipe Comments