Sweet Potato & Chorizo Frittata
2015-09-09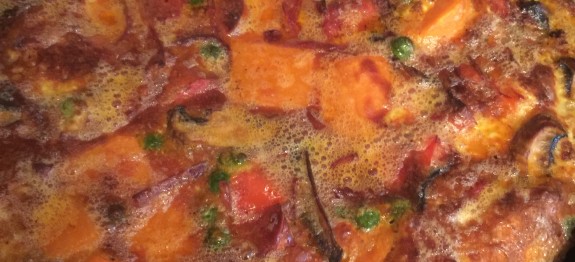 Servings :

2-4

Prep Time :

10m

Cook Time :

20m

Ready In :

30m
Found a basic "Frittata" recipe and thought I'd add a little bump to it. This one is a beauty…and is good with a salad served hot or cold. Also good on a buffet, again hot or cold or served hot as a Tapas dish…
Try substituting the Chorizo with a chicken breast – Or leaving out for a veggie option and add a couple of handfuls of spinach leaves. Add these to the mixture bowl at the same time as the eggs.
Ingredients
6 Free Range Eggs - Whisked in a large mixing bowl
100g Chorizo Cut into Cubes - Veggies Leave out!
½ Red Onion - Chopped
2 Average Sized Sweet Potatoes - Peeled and Cut into 1" Cubes
¼ Red Bell Pepper - Cut into 1" Cubes
¼ Green Bell Pepper - Cut into 1" Cubes
50g garden peas
2 tbsp Chopped Fresh Flat Leaf Parsley
Large nob of butter
Method
Step 1
Boil the sweet potatoes until tender but still firm - Probably after about 5 mins...check and drain off and place to one side
Step 2
Melt half of the butter and then gently sauté (fry in a pan) the onion, peppers and chorizo (or your chicken breast) until just softened.
Step 3
Place the potatoes, chorizo & veg in to the bowl with the whisked eggs and fold together with the parsley & peas
Step 4
While doing that place the final nob of butter and a splash of olive oil in a dinner plate size frying pan (circa 20cm) and then add your frittata mixture and gently fry for around 15 minutes
Step 5
Have a peek to check that you aren't burning the frittata by lifting the side with a fork/spatula. When the frittata looks almost done but still a bit gooey on top place it under a medium grill to finish off.
Step 6
To serve place a plate over the frittata and flip over to turn out.