Teriyaki Chicken Wings
2017-03-14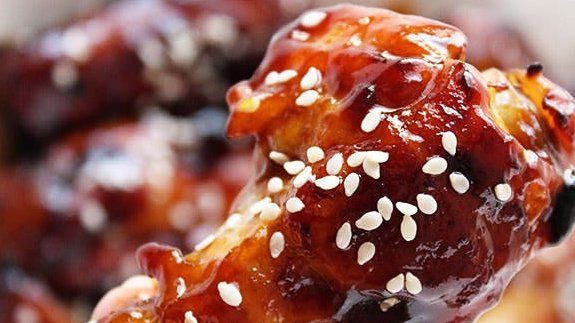 Yield :

10

Servings :

1-2

Prep Time :

5m

Cook Time :

15m

Ready In :

20m
I love using chicken wings: They're cheap, easy to cook, tasty and even better with crispy skin!
Before you follow the steps below, make sure you knock my teriyaki sauce up! Although its real easy to make, you can do it in advance and it will keep in the fridge for 1 to 2 weeks…
Ingredients
10 Chicken Wings - Trimmed
200g Plain Flour - Seasoned with Salt & Ground Black Pepper
Vegetable Oil - For Shallow Frying the Wings
4 tbsp My Teriyaki Sauce
1 Spring Onion - Finely sliced
1 tsp Sesame Seeds
Method
Step 1
Toss & coat the wings in the seasoned flour.
Step 2
Shallow fry the wings until crispy/golden brown on both sides - should be 6 to 8 minutes...
Step 3
Heat the teriyaki sauce in a wok or frying pan (until its bubbling nicely) the add the wings and fry for a couple of minutes - basting and coating as you go.
Step 4
Gently toast the sesame seeds in a dry pan until lightly brown
Step 5
Serve immediately with the spring onion garnish and sprinkle with the toasted sesame seeds.