My Masala Chicken ????????
2015-09-01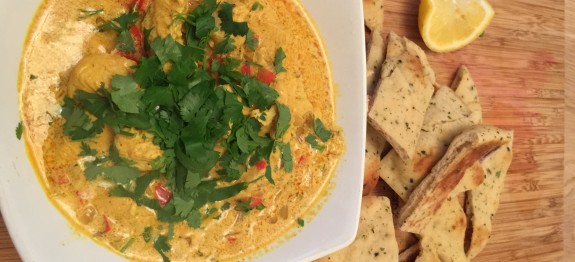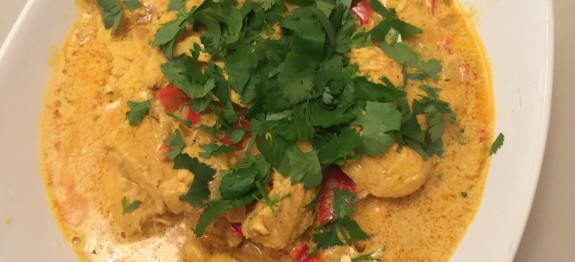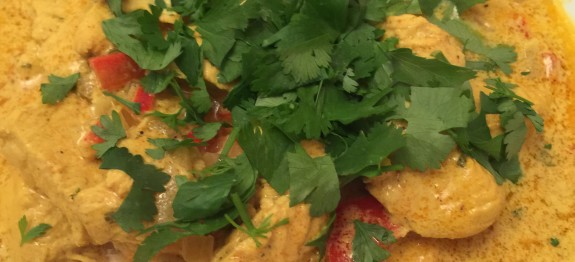 Servings :

4

Prep Time :

15m

Cook Time :

30m

Ready In :

45m
This is one of those dishes that is simple to make that when you first try it you think, "I'll never buy one of those jars of sauces again!"
Serve with my Fast Flatbread
Ingredients
4 x Chicken Breasts - Sliced in to cubes (Pierce with a fork or skewer)
3 x Cloves Garlic - Finely Chopped
4cm Piece of Fresh Ginger - Peeled and grated
1 x Brown Onion - Finely Chopped
1 x Red Chilli - Deseeded & Finely Chopped
1 x Red Bell Pepper - Chopped in to small cubes
1½ tsp Chilli powder (hot or mild is up to you)
1½ tsp Turmeric Powder
1½ tsp Cumin Powder
Juice of 1 Lime
Juice of 1 Lemon
2 x tbsp Coriander - Finely Chopped. Plus a bunched just chopped for serving
2 x tbsp Sunflower or Vegetable Oil
300ml Double Cream - Or Crème Fraîche if you want a "healthier" option
Salt & Freshly Ground Black Pepper
Method
Step 1
Place the following in a bowl: Chicken, 1tbsp Oil, 2 Cloves Crushed Garlic, 3cm of Ginger, 1tsp: Chilli Powder/Turmeric/Cumin, Juice of 1 Lime, ½ Juice of Lemon, 2tbsp Chopped Coriander - Fold & Massage together then leave to marinade for at least 30 minutes - preferably over night.
Step 2
When ready to cook add remaining ingredients to a large frying pan/wok and gently fry for about 5 minutes - then add the chicken marinade. Make sure you get all of the juices and bits etc and fry for a further 10 minutes.
Step 3
Turn heat down and add the cream of your choice and simmer for another 10 minutes
Step 4
Add the remaining lemon juice - check for seasoning, stir and serve with the rice of your taste...I like to serve with Basmati and my homemade flatbread.