"Mmmm…Thats a Tasty (Turkey) Burger"…????
2016-07-19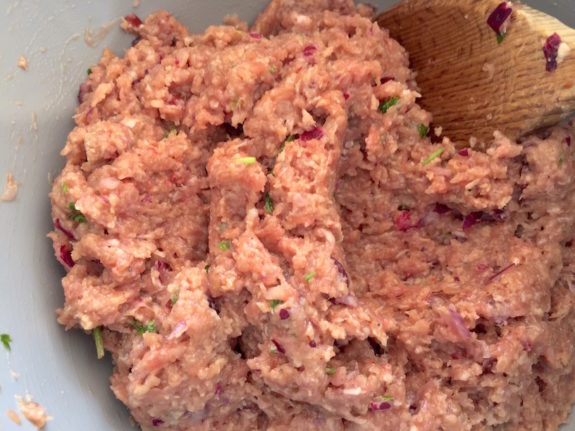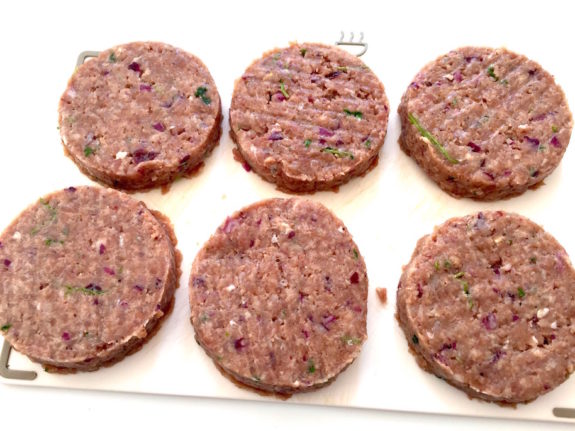 Prep Time :

20m

Cook Time :

10m

Ready In :

30m
"Mmmm…thats a tasty burger!" – a classic line from the movie, Pulp Fiction where the students have just been to The Big Kahuna…when Jules and Vincent call by…Anyway here's a great "Cheap, Lean & Tasty" alternative to the fatty minced beef you get in the supermarkets.
I've used cranberry jelly but you could try apple, apricot, mango, nectarine or any fruit that you like…try adding chilli flakes or fresh chillies if you want to turn the heat up…
Top Tip: Buy one of those "burger makers" you can see in one of the pictures. It's basically a gadget that presses your burgers in to nice round even sized 'patties'
.
Ingredients
500g Lean Minced Turkey
1 x Medium Red Onion
1 x tbsp Cranberry Jelly
1 x Dash Worcestershire Sauce
1 x tsp Garlic Salt
1 x Small Bunch Parsley
1 x Clove Garlic
1 tbsp Tomato Puree
Juice of Half a Lemon
Method
Step 1
Put the" Onion, Garlic, Parsley in to a blender and whizz until finely chopped. (Or chop by hand but make sure its very finely chopped).
Step 2
Place all the ingredients in to a large mixing bowl and combine using a wooden spoon.
Step 3
Fill your burger maker as per the instructions or form in to "patties" using your hands. Refrigerate until ready to cook.
Step 4
Either grill, BBQ or shallow fry in the pan. Perfect!