Haggis Neeps & Tatties Stack with My Whiskey Sauce
2019-11-07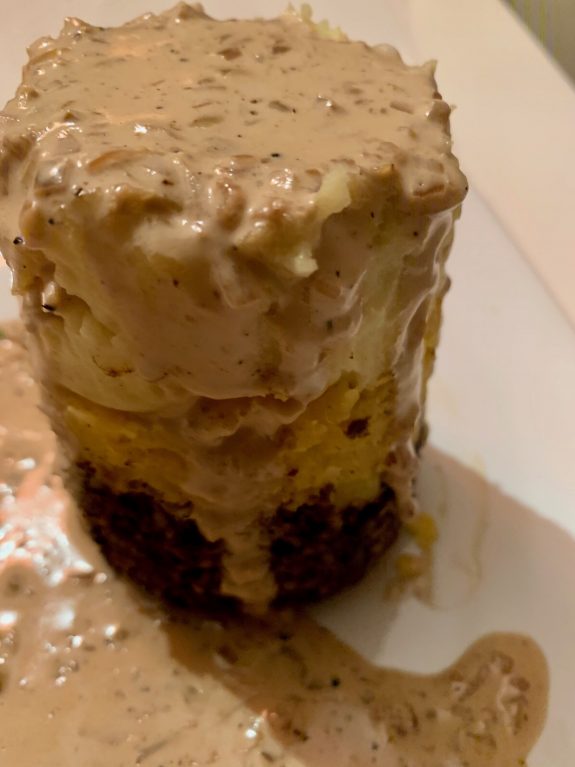 Yield :

Serves 4

Servings :

4

Prep Time :

30m

Cook Time :

60m

Ready In :

1:30 h
If you've never tried Haggis then you are missing an absolute treat! I love Haggis Neeps & Tatties and always try them out when visiting Scotland.
Here's my take on this famous Scottish dish…To be honest, I've never seen Scottish Oat/Porridge used in any recipe for the Whiskey Sauce but I think it adds a little "tourist" tradionality to the dish.
Top Tip:
You'll need an empty tin can (old baked bean tin works perfectly) to use to stack the ingredients to give it that "chefy" look! (Obviously you'll need to clean it and remove the paper cover) Or you can buy stainless steel rings from any good kitchenware retailer…
Ingredients
700g Haggis
520g Neeps (Swede) - Hot Mashed
520g Tatties (Potatoes) - Hot Mashed
For The Whiskey Sauce
2 x Shallots - Finely Chopped
15ml Whiskey
125ml Beef Stock
100ml Double Cream
Knob of Butter
1 x Dsp Tomato Puree
1 x Dsp Porridge Oats
Method
Step 1
First cook your Haggis according to the instructions on the packaging. Typically involves boiling/simmering it in water...
Step 2
While your Haggis is cooking, prepare your potatoes (tatties) & swede (neeps) in separate pans. These need to be mashed and seasoned with butter salt and pepper. I like mine quite "rustic" (lumpy - but not too lumpy - but not perfectly smooth either!) - Keep warm until ready to "stack".
Step 3
FOR THE SAUCE:
Step 4
In a saucepan sauté the finely chopped shallots in the butter until softened. Add the whiskey and flame to burn off the alcohol then add the stock, oats and tomato puree. Simmers and reduce by about a 1/3. Add the cream and continue to simmer to thicken your sauce a little - season to taste.
Step 5
When all ready get your cleaned tin cans and brush the insides with a little oil and place on a strong baking tray. Place 1/4 of the haggis in to each ring and press down with a spatula to get rid of any air pockets. Then do the same with the swede (neeps) and finally the potatoes (tatties). TIP: When all ingredients are stacked in each tin place the lid of a tin on top to finally press your stack down.
Step 6
Now place all four stacks in a pre heated oven 175 °C for 25 to 30 minutes
Step 7
To serve place in the middle of your warmed plate - use the tin top again to help push the stack out from the tin! Pour a little of the whiskey sauce over each stack, enjoy!