The Best Chicken Gravy Ever
2013-11-27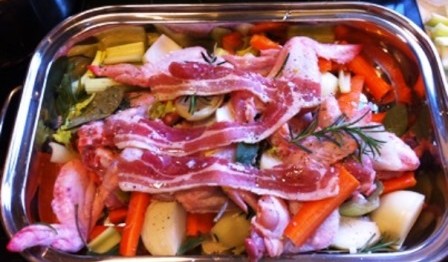 Yield :

1 Ltr

Servings :

About 8...

Prep Time :

15m

Cook Time :

1:30 h

Ready In :

2:00 h
I can't take the full credit for this amazing gravy, as I saw it on one of Jamie Oliver's shows. However I had been doing something similar in my own "made up" style way before Jamie helped me formalise it!…It takes a little time but it's definitely worth that little extra effort and the best part is it can be made in advance so it doesn't impact the rest of your cooking day!
Ingredients
8 x Fresh Chicken Wings - Free Range if you can
2 x Brown Onions - Cut into Quarters
2 x Celery Sticks – Roughly chopped
2 x Carrots – Roughly chopped
3 x Rashers of Streaky Bacon (not smoked)
5 x Fresh Sage Leave
5 x Bay Leaves (Fresh if you have got them – dried will do)
5 x Sprigs of Fresh Rosemary (Dried will NOT do – sorry!)
About 60g of Plain Flour (About 3 Tbsp)
About 60g Port or Sherry
About 2tbs Olive Oil
2L Hot Water
3 x Chicken Stock Cubes (put these in the hot water above)
Method
Step 1
Preheat the oven to 200°C. First job is to bash the chicken wings with a rolling pin – You need to break the bones to allow the flavours out (Mind your fingers!) Then place all the wings, veg and herbs in a metal roasting tin (You will be putting this tin on your hob later). Season with salt & black pepper, then toss with the olive oil. Finally lay your bacon over the top & place in the oven and roast for 1 hour. The meat should be tender and falling off the bone.
Step 2
Take your pan out of the oven, place it over low heat and use a potato masher to grind everything (make sure you scrape all the bits goodness from the bottom of the pan).
Step 3
To thicken your gravy, stir in the flour and continue to cook for a while (2-3 minutes or so to allow the flour to "cook out"). NB. The longer you let everything fry, the darker your gravy will be. When the flour is combined, pour in the 2L of hot water mixed with the stock cubes & port/sherry. Now increase the heat to high and bring to the boil and cook for about 10 minutes or until thickened. Finally, reduce heat and simmer for about 30 minutes, stirring occasionally.
Step 4
Now strain off through a sieve all of the gravy in to a new clean pan. TIP: Squeeze/press all of the last bits of juice from the sieve with the back of a spoon. Keep warm until ready for serving...Or
Step 5
…If you have frozen your gravy take it out to defrost while you cook the chicken (see Amazing Roast Chicken). When the chicken is cooked, strain any juices from the bird into its roasting tin and then add your pre-made gravy to the same tin. Bring to the boil, making sure you get any "tasty" bits up again.
Step 6
Now strain off one last time in to a pan and then let it simmer until you are ready to serve, skimming off any excess fat while you're waiting.