Court-bouillon (Fish Poaching Liquor)
2016-07-05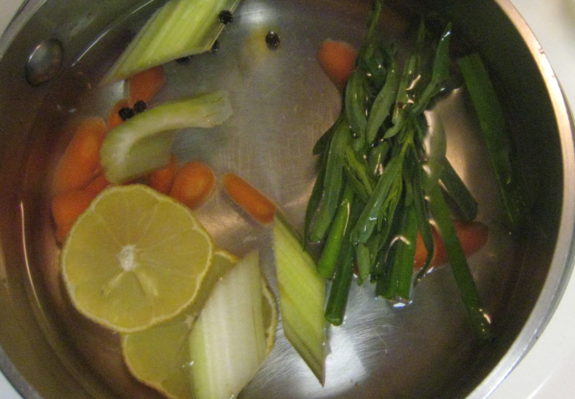 Yield :

1

Prep Time :

3m

Cook Time :

20m

Ready In :

25m
One of those things that you need in your "chefs" locker is a stock "stock". This is so simple yet so effective.
You can do this in advance and refrigerate for up to 3 days or freeze for a 3 months
Lemon/Wine/Cider = Acidity
Peppercorns/Bay Leaves = Aroma
Herbs = Flavour
Ingredients
500ml Water
1x Stick Celery - Cut in to 4
1x Carrot - Peeled & Quartered
1x Bay Leaf
½ Lemon - Sliced into rings
½ Onion - Cut in half
1tsp Whole Black Peppercorns
1x Glass White Wine (125ml)
Herbs of your choice: Dill, Tarragon or Stalks of Parsley...
Method
Step 1
Place all of your ingredients in to a pan with the water, bring to boil and then simmer for 15 to 20 minutes.
Step 2
Strain/sieve the liquor off and save until you are ready to poach your fish.
Step 3
Use to poach your fish or keep refrigerated for up to 3 days. (Or freeze for 3 months)